Welcome to Stick It Percussion
Stick It Percussion is a high end percussion, drum rental service and coaching / development company for musicians interested in quality instruments and performance. We offer great instruments, tuition, service and advice. All you have to do is play and "let those creative juices flow!"
We have acquired the best assets of the former Myriad Percussion and now provide an even larger collection of instruments that will be more accessible to any client of quality Percussion instruments.
We can tailor and provide all your percussion requirements for any situation whether it's a practice instrument for a student, an esoteric theatrical set up for a musical or school production or a complete classical percussion section for your orchestra, concert band or wind symphony.
Over the last few years Stick It Percussion has supplied and advised on instruments to: Melbourne International Jazz Festival, The Australian Art Orchestra, Paul Anka, Anthony Warlow, Faith Prince, Elaine Paige, Katie Noonan, The Grainger Wind Symphony, Chis Lillie's theme for Ja-mie, The Impossible Orchestra. Recording Sessions for John Foreman, Paul Grabowsky, and Fred Schepsi. A Funny Thing Happened on the Way to the Forum, The Melbourne Recital Centre, The Australian Outback Spectacular, Jonathon Dreyfuss, The Tap Pack Show, Corpus Medicorum and many others.
Instruments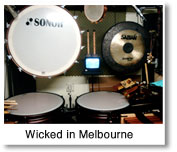 Stick It Percussion can tailor and provide all your percussion requirements, and with the acquisition of the former Myriad Percussion, Stick It Percussion offers a collection spanning all families of percussion instruments. The following is an example of some of the instruments that are available:

Timpani
Mallet Percussion
Concert Percussion
Afro-Cuban percussion
African percussion
Brazilian Percussion
Middle Eastern, Flamenco &Ethnic Percussion
Sound Effects
Snare Drums
Drum Sets

Tuition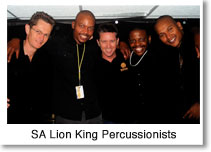 Stick It Percussion draws on over thirty years of playing experience from its principle John Clark to offer a complete education and mentoring resource.
Testimonial
"... As always, John's masterful command of his magnificent vintage vibraphone, the "good vibe", plus his professionalism, patience, and attention to detail, all had a hugely beneficial impact on the recording session, and the sound of the score."

- David Hirschfelder.
Acadamy Award Nominee composer.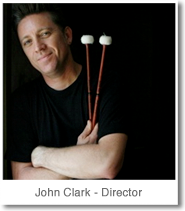 About John Clark
John Clark is renowned for his versatility and musicality across a variety of music genres. With worldwide studio and touring experience, John has been performing since 1977.

Having studied classical percussion at the Sydney Conservatorium of Music and the Manhattan School of Music in NYC, John began performing with the Sydney Symphony Orchestra at the age of 17. Now, his extensive career includes...